Don't give up fashion at the age of 50, but don't wrong yourself. Shoes that are too tall or too worn are not suitable, but they must show personal charm. I want to pick a pair of comfortable and stylish shoes, what should I do?
Choosing shoes is a lifetime issue. Some people have a cupboard full of shoes but can't pick the best fit, and some people always wear the same style. From shopping on the streets or traveling to the suburbs, don't let the wrong shoes ruin your good mood. Here are some tips to make good shoes go further with you:
1. Foot length, foot width, and foot shape are very important
The most important thing for a pair of comfortable shoes is to find the correct size. If the size of the shoes is not suitable, no matter how high-tech ergonomic design is, it will be useless. The size and width of shoes produced by different manufacturers are different, and the size must be adjusted according to the shape of the foot. Sometimes the width of the footboard is even more important than the length of the foot. If you have hallux valgus, pay attention to the toe to have enough space for the toes to move, and avoid crowding the toes together.
Adults with valgus thumbs should avoid wearing shoes with a heel height greater than 4 cm, because above this height, gravity will move the bodyweight forward to the phalanges, making the symptoms worse.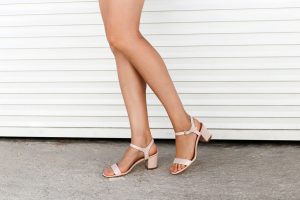 2. Knitted materials are in power, throw away plastic shoes
Throw away transparent or colored plastic shoes. Plastic shoes have been red for several years, but they only make the feet sweat and make them uncomfortable at all. Knitting materials that have emerged in recent years are just the opposite. In addition to being breathable, they can also be stretched elastically, softly cover and fit various foot shapes.
Knitted materials are well received, not only sports shoes but now almost all kinds of knitted shoes can be seen on the market. Some brands even launch knitted boots or knitted sandals. But because the extension of knitted shoes is particularly good, you should pay attention when choosing a size. It may be half or even one size smaller than usual.
3. sports sandals are most suitable for summer
This year's most popular sandals are not elegant or sexy styles, but "sports sandals" that are as comfortable as ordinary sports shoes, but are not obtrusive at all with jeans and dresses. According to different soles, straps, and ankle support designs, some sandals are not only suitable for shopping, but also outdoor walking.
In addition to having multiple functions and styles, sports sandals also provide a little "increasing" effect. They are especially suitable for pairing with wide trousers, which are more likely to produce a visual "long-legged" effect.
You want beauty but also comfort, choose high heels like this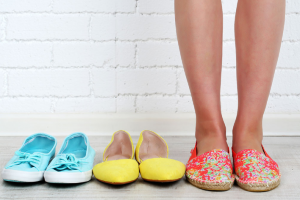 Although most podiatrists and orthopedists discourage wearing high heels, and studies have shown that high heels exert excessive pressure on the arch or sole, in addition to increasing height, high heels can also visually elongate the calf ratio and reduce the size of the feet, which is difficult for many women. The attractiveness of words, before choosing "comfortable" high heels, the most important thing is to avoid the following mistakes:
Mistake 1: Incorrect size
Regardless of any shoe style, it must be comfortable to wear, and size is the most important, especially high heels.
When buying shoes, remember to measure the length and width of your feet on the spot. You may be surprised to find that the size of your feet changes every year. Hormonal changes or aging may change the size of your feet.
Mistake 2: Super high heel
Foot pain is one of the most common problems of wearing high heels. The higher the heel, the greater the pressure on the arch, ankle, and knee. If there is no way to sacrifice heel height, at least three types of shoes that are less harmful to the body should be selected.
1. Choose shoes with thicker soles: In addition to offsetting the heel height, the thickness of the soles can also provide better protection than thinner soles.
2. The shape of the heel should be thick at the top and thin at the bottom. This type of heel is usually more stable.
3. The position of the heel is better, and the stabilization effect of this kind of shoe is better.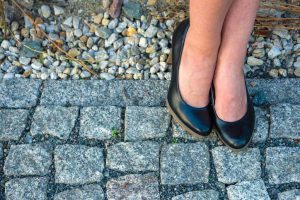 Mistake 3: Insufficient covering area
If you only rely on the thin straps at the ankles and a little upper to secure the soles of your feet, you can easily sprain your ankles because you lose your balance. High-heeled shoes should be selected according to the type of foot. The upper material should be able to support and fix the position of the foot. High-heeled boots are a good choice.
Mistake 4: Toe abuse
Imagine that to squeeze your toes into the toes of your small shoes, and you have to work hard to support your body's weight and maintain your balance. This is simply tortured. So please try to choose round-toed shoes or slightly larger pointed shoes.
Some people may wonder why high heels are tortured to some people, but some people can walk on high heels to go shopping for hours. The answer is not necessarily magic insoles, expensive designer shoes, or ergonomic design, but the usual reason: it has to do with the shape of the foot.
According to experienced podiatry or shoe selection experts, some people's feet are suitable for wearing high heels, and some people feel that even a little heel is a crime. The key to choosing a pair of comfortable shoes is your feet. No matter the size, material, or style, you can only try them on yourself and try a lot.
3 days return 30 days replacement
Share This Product, Choose Your Platform!