NY-663# insole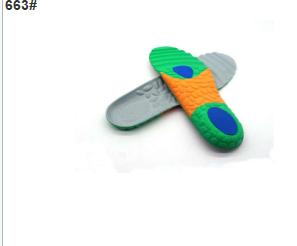 1.Material : Vigorous cotton+breathable cotton+latex+polyester Polyester fabric.
Vigorous cotton :comfortable , no pilling, no fading colors.
Latex : Ultra high elasticity (moderate soft hardness) Comfort and breathability , Disperse the bearing capacity of human weight, Durable and never deformed
Sizes: 35-37、38-39、40-41、42-45
Price :1.57
1.Massage Foot Care :
❈The forefoot stripe design has good anti slip effect
❈ Metatarsal pad of the forefoot is specially made of the mold groove, which can effectively disperse the pressure of the forefoot and reduce the pain of the forefoot
❈ The cobblestone bulge on the surface can massage the sole of the foot when walking in you daily foot care 2.Popcorn+Breathable Cotton Support and Latex Pad
❈ Latex pads of forefoot and heel can absorb shock in walking
❈ Breathable cotton and popcorn bottom layer with antibacterial, deodorizing function
1. Massage insoles can help us relieve fatigue
Many people now like to go shopping, or often walk with their feet. If this continues for a long time, they will make their feet feel very tired and make their bodies feel very uncomfortable. So in this case, you can use massage insoles to help yourself, which can help us to relieve the fatigue of our feet.
2. Massage foot pads can make us healthier
In fact, our feet have a certain connection with many organs of the body. Massage the foot pads at night can help many organs of our body to be healthier, while avoiding damage caused by some diseases. Therefore, if the massage foot pad is used frequently, it will make our body healthier.
3.massage insoles can help us get rid of the cold
Winter is actually very cold, so it makes our feet cold. So in this case, you can use massage foot pads to help us, because this kind of thing can help us effectively remove the cold on the soles of the feet and make our bodies healthier.
Massage foot pads is actually a great help to our body. In daily life, if your feet often feel tired, you can use this method, and this method is actually very good for your body. Let our body be healthy and at the same time be able to better protect our feet. After all, there are a lot of acupuncture points on our feet. We often massage our feet so that our body can effectively eliminate certain toxins.
learn more Insoles and orthotics , please kindly to visit our web .www.aideastep.com & www.ideastepinsole.com.
Also any other questions or suggestion ,  please feel free to contact us  :
Tel: +86-18106960586(whatsapp)丨 Email: sales5@ideastepinsole.com  /
Xiamen Kon Technology Co., Ltd
3 days return 30 days replacement
Share This Product, Choose Your Platform!