U.S. insole market in 2019-2023
U.S. insole market in 2019-2023
LONDON–(BUSINESS WIRE)–Technavio's research report on the US foot pad market predicts that the market's compound annual growth rate during 2019-2023 is close to 7%.
American foot pad market: 3D printing introduces foot pads
With the increase in research and development activities of advanced technology, it is helpful to make effective use of 3D printing to develop orthotics. Compared with traditional manufacturing processes, 3D printing manufacturing requires less time. Some of the advantages of using 3D printing to produce precision orthoses include faster delivery, custom variable density by controlling areas that require additional support, and providing softer areas.
"In 3D printing, shoe soles are made layer by layer, so their porous support structure is lightweight and breathable. In addition, the application of 3D printing technology helps eliminate material waste and labor costs, thereby helping to develop better The product is also cost-effective," said a senior research analyst at Technavio.
U.S. Insole Market: Segmentation Analysis
This research report on the U.S. insoles market segments the market by application (medical insoles and sports insoles) and materials (polypropylene insoles, leather insoles, and other insoles).
In 2018, the medical insole market had the largest market share of foot pads. Factors such as increased awareness of orthopedic support systems and increased knee-related injuries are driving demand for insoles in the United States.
The polypropylene insole segment accounted for the highest market share in 2018. Polypropylene insoles have flexibility options, top cover options, optional healing patches and various internal adjustments. The high adaptability of polypropylene insoles in a variety of shoe types will promote the steady growth of the U.S. insole market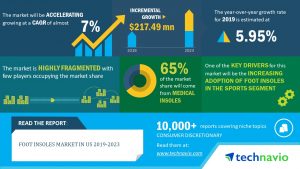 learn more Insoles and orthotics , please kindly to visit our web .www.aideastep.com & www.ideastepinsole.com.
Also any other questions or suggestion ,  please feel free to contact us  :
Tel: +86-18106960586(whatsapp)丨 Email: sales5@ideastepinsole.com  /
Xiamen Kon Technology Co., Ltd
3 days return 30 days replacement
Share This Product, Choose Your Platform!