When to wear slipper-type orthopedic shoes and what is its corrective principle
When to wear slipper-type orthopedic shoes and what is its corrective principle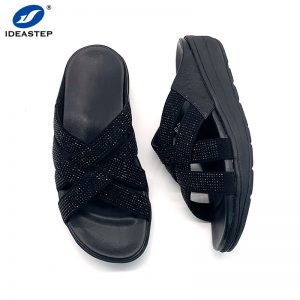 For children with severe flat feet or valgus hind feet, correction is a relatively long process, which requires patience and care, and at the same time, give him a more comfortable feeling of wearing shoes as much as possible. In order to take care of children with foot problems, IDEASTEP has developed slipper-type orthopedic shoes. This pair of orthopedic shoes can be worn at home and can be corrected at home. So how do slipper-type orthopedic shoes perform foot intervention and correction?
People with severe flat feet, high arches, and valgus hind feet can actually use Ai Jiao Jian slipper-type orthopedic shoes at home. In other words, it does not have many restrictions, but provides convenience for home corrections for people suffering from foot problems. In terms of design, it is different from ordinary household slippers. Slipper-shaped orthopedic shoes are designed with arch support design, which can provide support for flat feet. At the same time, there are different heel slope designs at the heel to control the angle of hind foot valgus. Because the strength of the corrective force line is higher than that of ordinary family slippers, it can straighten the ankle, support the arch of the foot and adjust the force line of the lower limbs. When walking, it can reduce the chance of joint strain and relieve muscle fatigue and pain.
If you want your child to achieve easy correction at home, slippers-type orthopedic shoes are a good choice. However, before choosing orthopedic products, it is recommended to take your child to professional institutions such as Ai Jiao Jian Orthodontic Shoes and Custom Insole Center to measure the condition of the foot. Based on clear images of foot development, the orthopedist can configure the most appropriate corrective products. In order to help the orthopedist have an overall understanding of different children's feet, IDEASTEP orthopedic shoes and customized insoles center includes 3D three-dimensional foot scanning analyzer, plantar pressure gait analyzer, shadow meter, ES-CHECK system, etc. A number of high-tech instruments in the company generate and analyze the foot data of visiting customers in detail, so as to customize orthopedic insoles for each child.
Corrective slippers provide children with a comfortable and relaxing wearing experience. But while enjoying comfort, parents should also guide their children to do appropriate exercises. After exercise, parents should also massage their children. Some stretching exercises can help the child's foot muscles to restore elasticity and speed up the entire correction process. After exercise, proper massage can reduce muscle fatigue and tension. Through scientific exercise and massage, the child's feet will quickly return to normal.
learn more Insoles and orthotics , please kindly to visit our web .www.aideastep.com & www.ideastepinsole.com.
Also any other questions or suggestion ,  please feel free to contact us  :
Tel: +86-18106960586(whatsapp)丨 Email: sales5@ideastepinsole.com  /
Xiamen Kon Technology Co., Ltd
3 days return 30 days replacement
Share This Product, Choose Your Platform!