High resilience and aging resistant EVA foam material and preparation method thereof
High resilience and aging resistant EVA foam material and preparation method thereof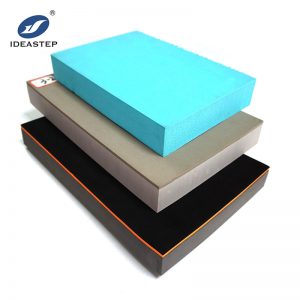 Injected lignocellulose powder is a product obtained directly after plasticizing, granulating, and melting lignocellulose powder and other raw materials at a high temperature, then injecting it into a mold through a pipe, and then foaming outside the mold. The sole of general sports shoes is composed of a foamed midsole and a wear-resistant rubber outsole. Because lignocellulose powder has good plasticity, elasticity, and workability, the foamed material has low density, good mechanical properties, and easy coloring. Etc. At present, most of the midsoles or insoles of sports shoes are made of EVA foam materials, which are easy to deform after wearing for a long time, are not easy to recover, and produce unpleasant odors.
Generally, injection EVA products have disadvantages such as poor resilience, poor aging resistance, excessive heat shrinkage, etc., which have great obstacles and limitations to subsequent production and use. Therefore, it is necessary to provide a new high resilience and aging resistance EVA. Foaming materials to solve the above-mentioned shortcomings that cannot be overcome by general injection of EVA.
Summary of the invention
The purpose of the present invention is to provide a high resilience and aging resistance EVA foam material and a preparation method thereof. The high resilience and aging resistance EVA foam material provided by the present invention not only has lighter weight performance, but also has good elasticity. And resilience, but also has aging resistance and tear resistance, which can be used to prepare shoe soles, especially shoe midsoles.
The preparation method of the high resilience and anti-aging EVA foam material provided by the present invention includes the following steps:
1) Modification of lignocellulose powder with silane coupling agent to obtain modified lignocellulose powder;
2) Mixing partially hydrogenated styrene butadiene polymer, ethylene-vinyl acetate copolymer and the modified lignocellulosic powder before mixing;
3) Add blowing agent, bridging agent, active agent and zinc oxide to the mixing system for mixing;
4) The materials after step 2) and step 3) banbury are pelletized, then injected and foamed, and then cooled and molded to obtain the high resilience and aging resistance EVA foam material.
learn more Insoles and orthotics , please kindly to visit our web .www.aideastep.com & www.ideastepinsole.com.
Also any other questions or suggestion ,  please feel free to contact us  :
Tel: +86-18106960586(whatsapp)丨 Email: sales5@ideastepinsole.com  /
Xiamen Kon Technology Co., Ltd
3 days return 30 days replacement
Share This Product, Choose Your Platform!