Insole and shoe-pad
Insole is widely used in footwear industry, health care, special functions; Generally, it can be divided into two models: applied insoles in shoe making industry and applied insoles in shoe factory and market commodity. The shoe industry application of insole is mainly with the outsole of the shoe, the middle sole, make the corresponding body; Make size board according to last bottom plate or panel, and make the corresponding shape.Market commodity type insole basically is insole sells as a kind of commodity directly, design by development division, the product that circulates on the market.
How to learn more about insole and shoe-pad classification
Effect of classification
1, health care insole, is the insole that has health benefits to the human body. Such as: antibacterial insoles, deodorizing insoles, Chinese medicine insoles and so on.
2, the function of the insole: is to have a special function of the shoe to pad. Such as: antistatic insoles, heightener insoles, waterproof insoles, air circulation insoles, etc.
3. Conventional insoles: insoles that do not have the above 2 points are very common
The material classification
1. EVA insoles
2. Sponge insoles
The latest high-definition insole pattern
Latest HD insole pattern (8 pieces)
3, silicone insoles
4. TPR insoles
5. Latex insole
6, cloth insoles
7, leather insoles
CPU insoles
9. Cork insoles
Use classification
1. Sports insoles
Air circulation insoles
Air circulation insoles
2. Air circulation insoles
3. Correct insoles
4. Shock absorbing insoles
5. Warm insoles
6, heighten insoles
7, non-slip insoles
8. Electronic heating insoles
9. Massage insoles
10, magnetic therapy insole
11, antistatic insoles
11. Drug insoles
13, waterproof insole
14. Conventional insoles
Appearance Size Classification
1, the whole insole
2, half yard pad (half insert)
3. Seven-point pad
4: Front palm pad
5. Heel pad
6, post
7, waist stick
Production process classification
1. Cold pressing insoles
2. Hot pressing insoles
3, casting molding insoles
4, injection molding insoles
5, textile molding insoles
6. Hand-embroidered insoles.
learn more Insole and shoe-pad , please kindly to visit our web .www.aideastep.com & www.ideastepinsole.com.
Also any other questions or suggestion ,  please feel free to contact us  :
Tel: +86-18106960586(whatsapp)丨 Email: sales5@ideastepinsole.com  /
Xiamen Kon Technology Co., Ltd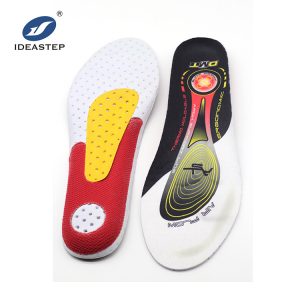 3 days return 30 days replacement
Share This Product, Choose Your Platform!