Corrective stockings (hall hallux valgus)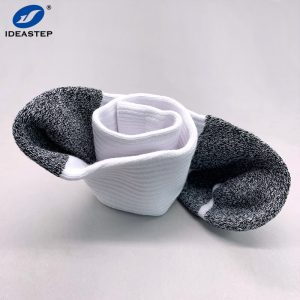 A simple and cost-effective solution that can be used to relieve pain in the big toe.
Special socks with integrated correction straps to protect bunion valgus correction surgery.
Indications:
Preventive measures: offset the occurrence and development of potential deformities of the toes due to improper mechanical functions
Postoperative: Used after hallux valgus correction surgery to promote and support the correct positioning of the big toe correction
Product Description:
Corrective socks will not press the toes into place (creating unnecessary pressure points), but will balance the alignment by gently pulling the toes
Inductive alignment can actively counteract the effects of misalignment and reduce discomfort, while still allowing the toes to move freely
No changes or obstacles to biomechanical function, joints can move freely
Regular use of the socks can counteract the occurrence and development of potential deformities
Product Features:
Can be worn during the day or night
Suitable for most shoes with enough toe space, if necessary, it can also be suitable for special shoes
Socks can be washed like other socks (maximum 60° inside and outside)
The corrective laminate belt is located on the outside of the sock for comfortable and continuous treatment
Made of soft carded cotton fabric
Conservative and preventive care
Hallux valgus symptoms are thought to be the result of inappropriate and repetitive biomechanical failure of the foot.
Correction stockings (hall hallux valgus toe) have a streamlined laminated strip built into the fabric of the socks along the big toe, which can gently correct the position of the joint to a biomechanically accurate alignment. This opposing balance can reduce the impact of misoperation (abuse) of the feet during the day.
There is a laminated correction tape on the outside of the socks, so there is no risk of skin irritation or discomfort. It is easy to put on and has high abrasion resistance. You can enjoy the therapy you need with your feet.
learn more Insoles and orthotics , please kindly to visit our web .www.aideastep.com & www.ideastepinsole.com.
Also any other questions or suggestion ,  please feel free to contact us  :
Tel: +86-18106960586(whatsapp)丨 Email: [email protected]  /
Xiamen Kon Technology Co., Ltd
Hot blogs:
If you are interested in this product, you can leave a message here and we will contact you as soon as possible
Share This Product, Choose Your Platform!