What is the plantar fasciitis ?
Many people have had such experience: standing for a long time or walking too much, will suddenly feel heel pain, that moment the whole body's nerves and muscles are taut!If the soles of your feet (usually near the heel) feel like they're being pricked by a pin, take a second look at the top picture. Every step you take feels like you're walking on a thumbtack!This is plantar fasciitis, a common disease of the foot.
How to prevent ?
 The plantar fasciitis insoles are very important to prevent !
Equipped with sports insoles/plantar fasciitis insoles
Get a pair of professional athletic arch insoles. This is very important for people with high arches.Practice has proved that many people after using the arch insole, have reduced the incidence of disease.
Interestingly, some barefoot runners never worry about plantar fasciitis, as opposed to using arch insoles, because their lower limbs are strong enough.Therefore, some people therefore think that insoles should not be used, or even that insoles will produce dependence, resulting in muscle strength can not be improved, more likely to produce plantar fasciitis.We recommend that you do not blindly use barefoot running shoes or simple running shoes. Whether it is barefoot running or plantar fasciitis insoles, it is important that they are suitable for you. It is important that you run without injury.
Aslo,You can also ask your doctor for a pair of arch insoles/plantar fasciitis insoles.Put a good arch insole in your shoes, or wear shoes with good arch pads.Be sure to start wearing them in the morning, as the fascia can tighten overnight, and shoes with arch pads can reduce the strain on the fascia and prevent pain.This can be an adjunct to therapy
learn more Insoles for plantar fasciitis  , please kindly to visit our web .www.aideastep.com & www.ideastepinsole.com.
Also any other questions or suggestion ,  please feel free to contact us  :
Tel: +86-18106960586(whatsapp)丨 Email: sales5@ideastepinsole.com  /
Xiamen Kon Technology Co., Ltd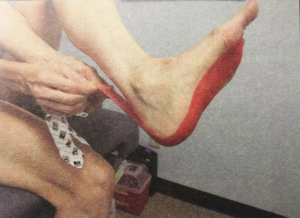 3 days return 30 days replacement
Share This Product, Choose Your Platform!